GDPR - General Data Protection Regulation
Established in 2016 by the European Union, the GDPR - General Data Protection Regulation , is a law that aims the protectection of individuals privacy and data.
What is GDPR?
GDPR states for General Data Protection Regulation. It was established in 2016, by the European Union. The law aims to give access and control to individuals over their personal data. It unifies other relugations for international business.

What does GDPR implies in companies not part of European Union?
There are several possibilities as a result of the GDPR, namely how companies should expect regulation to be rigorously enforced. Therefore, for a greater or lesser extent, all companies collecting, storing, or processing data of EU citizens, regardless of volume, will be subject to the application of this standard.


Does InEvent fit into this scenario

Yes, we fall under the category of major event technology vendors. Through the use of our application and platform, InEvent records and stores large amounts of personal data. Thus, we are subject to the regulations of the GDPR.

Does InEvent comply to the GDPR standards?
Yes, we do comply with all standards. InEvent constantly upgrades the platform with security level, in order to manage data storage and ensure the company meets all data protection regulations.


At InEvent, we are constantly working towards the reality of responsibly controlling mass data, towards the structural compliances of data protection and privacy, and along with that, towards changing the corporate mentality to adopt a position of greater transparency and openness in our collection, use, and processing, of personal data.
We see the issue of responsibly using personal data as something that goes beyond fines and other financial penalties that can be levied against offenders. We recognize that consumer confidence and reputation is at stake with the issue of personal data protection, and it is more than just a security, legal, or technological issue, but one that affects businesses as well that must be treated using a holistic approach to embed them into each business entities that utilize consumer's personal data and information.
How can a user export their own data?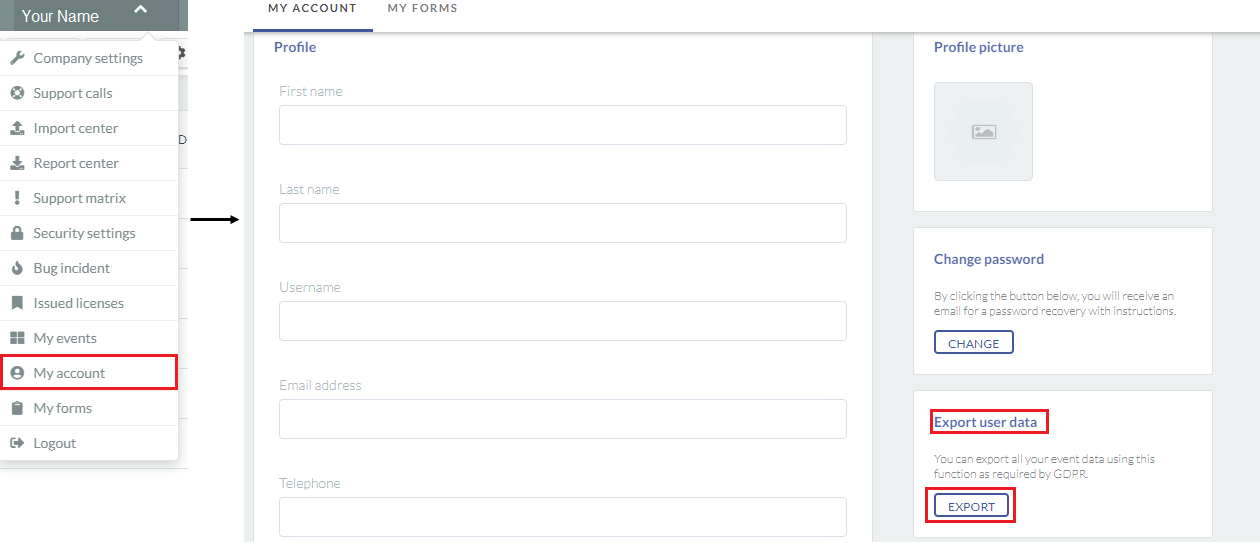 As soon as you click on "Export" you will recieve an email with your data.
For details on how InEvent complies with the GDPR, see: Data Security and Management
---
How Did We Do?
---