Pipeline
With the Pipeline  you can see the entire information flow of the attendee of your event.
Find out if he has already replied to the RSVP or whether his purchase is approved or even if his purchase is pending or has been finalized.
How do I see the flow of my participants?
A: First, access in 'People'> 'Registration'> 'View pipelines'.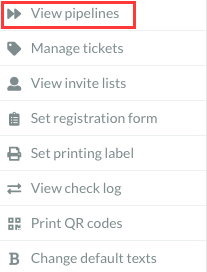 You will be redirected to the screen where all the flow will be informed.
In the 'Invite List'  you can see all the people who have been invited to your event. 
In the 'RSVP' column will be all the people who have not yet responded to the RSVP. 
In the 'Purchase Unfinished'  you will have listed all the people who have not yet finalized the purchase. 
In the 'Pending approval' column are all people who are pending approval for payment and 
In the 'Approved' column will have all the people who are already with the whole process finalized and approved.

Is it possible to search for a specific name? 
 A: Yes, you can search individually for each participant by clicking the 'Search' button on the right side of the screen. Then just enter the desired name that the tool will automatically identify the requested name.

---
How Did We Do?