Multi-Events
Create, edit and manage your company's events through the InEvent platform.
Creating an Event
You must click on "EVENTS"> "+ NEW EVENT", complete "EVENT'S NAME" field and then click on "CREATE" button.

Creating a Template
A template is used when you have similar events happening, and you only create one template and you can use in many events. The template becomes standard and you cannot change the cover page, event tools and forms.

Delete Events

To delete an event click on "EDIT", select the event checkbox you wish to remove and then click on "REMOVE"> "END".

Search Events
You can search for events, by clickig on EVENTS --> SEARCH.

Company´s Administrators
Administrators are able to manage each event and manage the company structure. Only administrators can add new administrators.
Read Admin Global
Visual Identity in Multi Event platform

You can modify the colors of the platform and app to your company´s colors. See White Label for more information.

Event Tools
To change tools that will be available to all events, go to "TOOLS"> "EDIT".
According to your requirement select or clear tools checkboxes and click on "END".
To change tools available in a specific event, click on "EVENT"> "CONFIGURATION"> "'TOOLS"> "EDIT" and then tick tools checkboxes you want to add or remove. To save changes, click "END".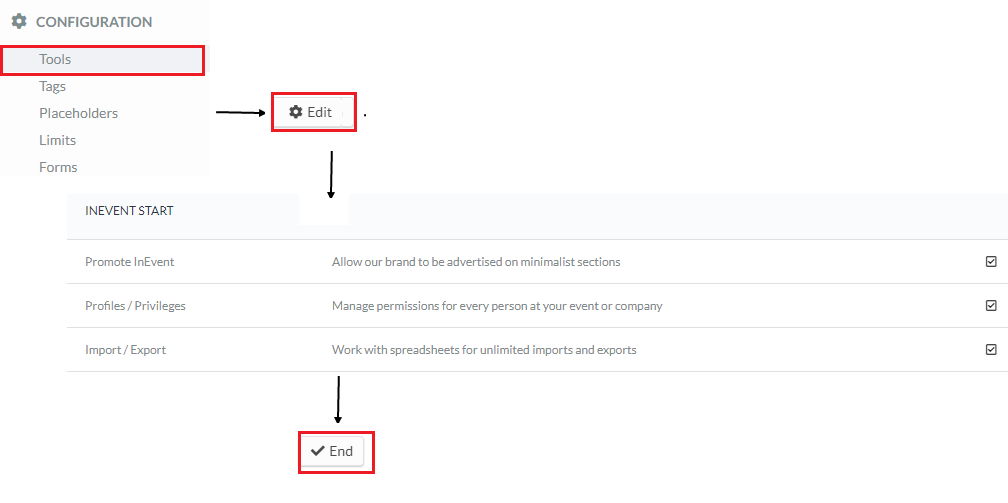 ---
How Did We Do?
---