Custom Page
This feature enables the creation of custom web pages for your event.

Our landing page manager allows you to create custom pages with the layout and content that your event needs. You can have your own Domain and as many pages as you require.

These sites can be created from ready-made templates or you may use your own source codes with html, javascript, css and images files.

Each event can have multiple sites (one for your partners, another for collaborators, etc.) they can each have different addresses to receive information and register for the event.
How to create a  Custom Landing page
To create a custom landing page, Click on 'EVENT' > 'LANDING PAGES' > 'CUSTOM PAGES'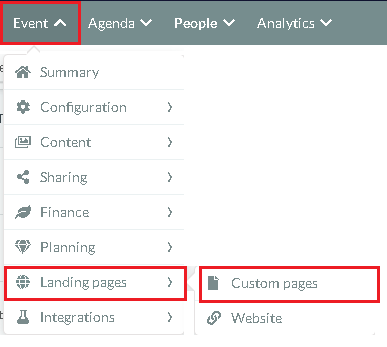 Press the ' + ADD LANDING PAGE' button in the top left corner.
 You will need to name your new landing page and also indicate which domain will be used for your landing page.
Note : Your domain should always be pointing to 'pages.inevent.us'
Then click on the blue 'CREATE' button.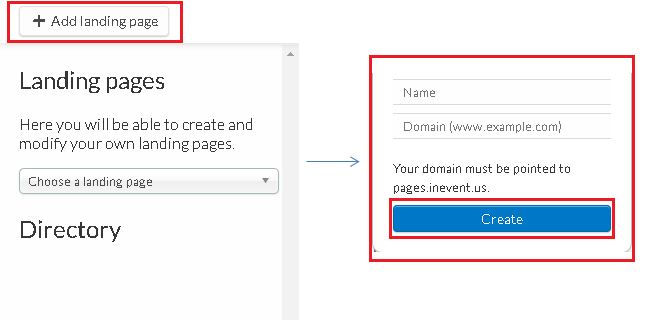 After indicating your domain and creating your first landing page, you can input  your own source code with html, htm, javascript, css and images files (png, bpm, jpeg or svg) by clicking the 'ADD FILE' button. Press the red folder button to add your file.


Under the 'DIRECTORY' column you will see all your files.

As Shown in the image below: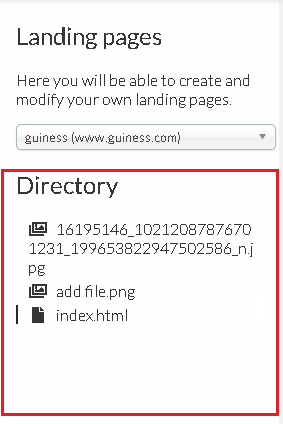 Note: All included images will have their url altered, and files with the same name will be duplicated based on the original (saved for the first time). Use different files with different names, no matter the url.
How to Edit or Delete a file
To edit or delete a file simply click on the desired file, and then click the 'SETTINGS' button in the top right corner.

A new window will open and you will be able to change the URL  path or delete the file.


Press the'SAVE' button when you have finished edititng.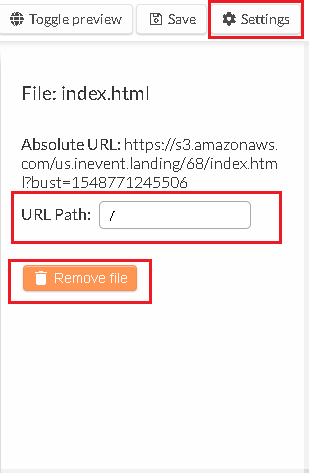 ---
How Did We Do?
---