Integration with Marketo
It is possible to integrate Marketo to our platform. With this integration, you will be able to synchronize all lists created with Marketo to an event within the InEvent platform, and all leads information is automatically updated every 1 hour (or instantly via the sync button)
How to Integrate
Step 1: To integrate Marketo with InEvent Platform, click on 'EVENT'> 'MARKETO'.
Step 2: Then, fill in the information for 'clientId', clientSecret', 'munchkinId' and click on 'LINK ACCOUNT'.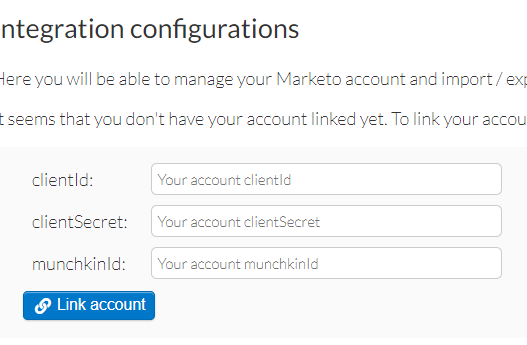 How to collect information for Integration
Step 1: To find the data for 'clientId', 'clientSecret', 'munchkinId', you need to access your Marketo account, click on 'ADMIN' > 'SECURITY' and then 'USER & ROLES'.

In 'ROLES', you must click on 'NEW ROLE'.


Then create a new 'ROLE' called 'API', select the 'ACCESS API (25 of 25)' option, and then click on 'CREATE'.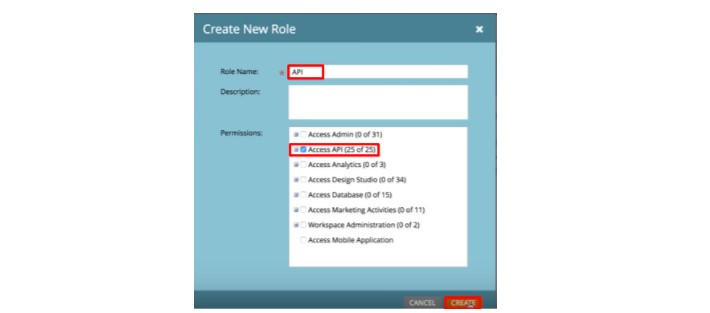 You'll see the recently created 'ROLE' on your screen just after finishing the creation.


Step 2: We need to create a new user. To do this, click on 'USERS' > 'INVITE NEW USER'.


A - INFO: Add 'EMAIL', 'FIRST NAME' and 'LAST NAME'. When finished, click 'NEXT'.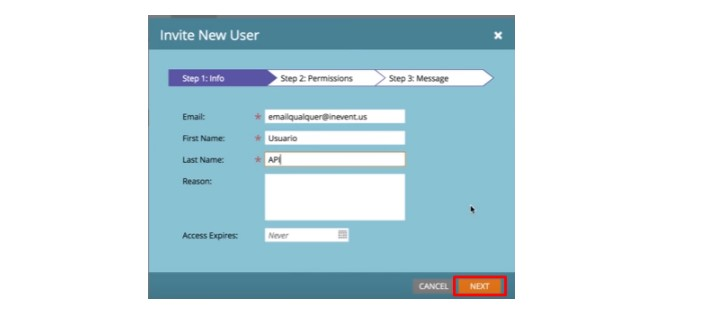 B - PERMISSIONS: You should check the 'API' option and also the 'API Only' and 'NEXT' option. Note: The 'API Only' option is mandatory. Otherwise it won't be possible to continue the process.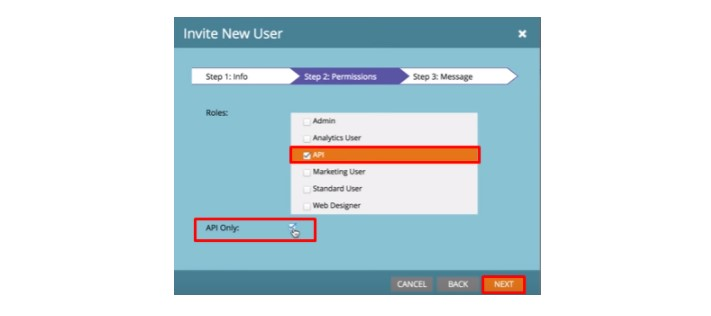 C - MESSAGE: Just click on 'SEND' to finish the new user creation.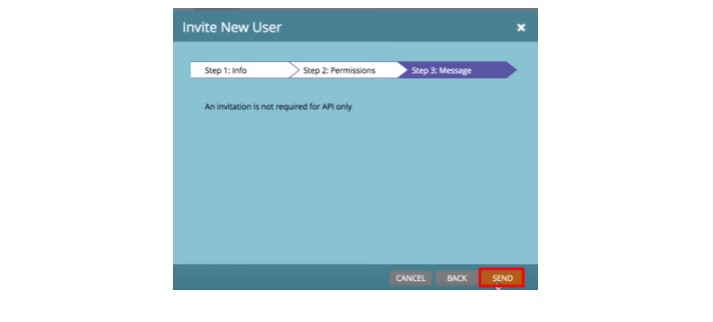 Step 3: Configure the Integration, for this you need to click on 'ADMIN'> 'INTEGRATION' and 'LAUNCHPOINT'.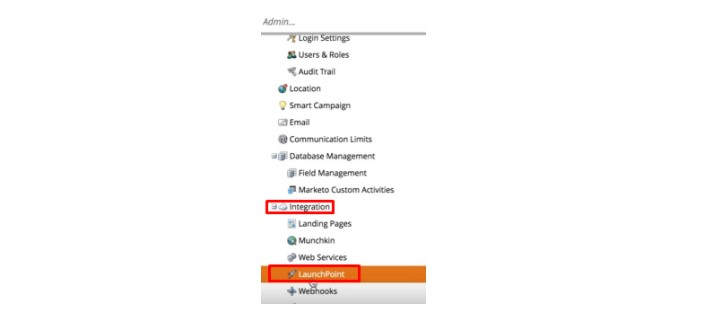 On this screen, you need to create a new service by clicking on 'NEW'> 'NEW SERVICE'.

You must fill in the fields according to the following image (except the description field, that can contain any text as it makes no difference, and the 'API Only User' should contain the previously created user) and click on 'CREATE'.

To check your final information click 'VIEW DETAILS'.

Note that the information requested to finish the integration inside our platform is in the details. Then you just to copy and paste the 'clientId' and clientSecret' into the integration with Marketo screen.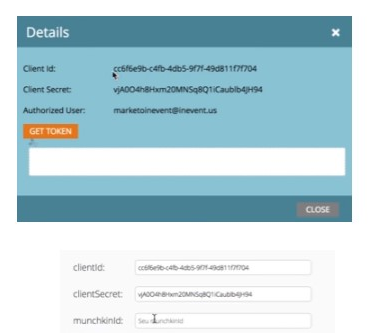 4º Step: As last, the 'munchkinId' can be found on 'INTEGRATION'> 'MUNCHKIN'> 'MUNCHKIN ACCOUNT ID'.

After filling in all fields the integration screen, click on 'LINK ACCOUNT'. You can see in the following screen that the integration has been made

Data synchronization
Marketo > InEvent

Lists

In the List Information, you'll have all the lists that have been uploaded in Marketo. You should select the desired list and click 'LINK LIST' to integrate with InEvent.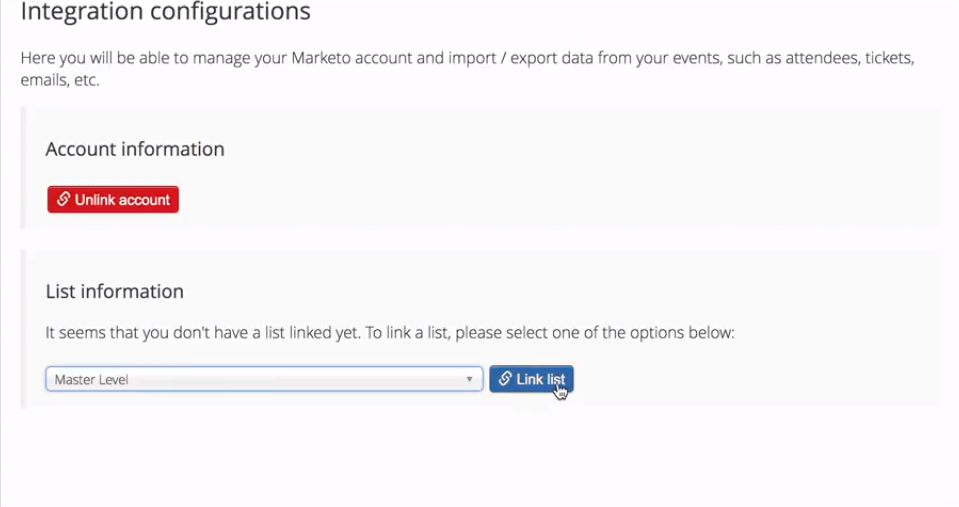 Custom Field
We have the additional information configured in the 'SET CUSTOM FIELD' from InEvent platform. You must choose the option for the Marketo field to be linked within the checkbox 'CUSTOM FIELDS'.


Attendees
To synchronize attends, you must click on 'SYNCHRONIZATION '> 'SYNC ATTENDEES'. You will be notified by email when the synchronization is ready.

After the synchronization has been confirmed in your email, your information will be updated on the integration information page. To see the new attendee's information you must update your 'VIEW ATTENDEES' page (F5) and all new information will be updated. Automatic synchronization takes place every hour of the day / night.
All attendees who are synchronized via integration with Marketo will be flagged with a lightning bolt.
To see additional information for each attendees you need to click on 'EDIT', and select the person you want. Additional information is available on the right side of your screen.

Marketo > InEvent

All information update on "CUSTOM FIELDS and ATTENDEES" in InEvent Platform, after synchronization, is also updated on the Marketo


Programs
The InEvent platform have diverse access and integrations with Marketo's 'PROGRAMS', to help users to achieve full results and control information on events.
Types of program


These integrations bring all the stuff that you need in platform InEvent, to make your events work very well end-to-end, like:
- Create landing pages
- Follow smart campaigns
- Import and export attendees list
- Send and updating Invitations
- Managment live and post-event activities
- Assets to collect registrations

- Reports and analyzes

- Digital Forms and Check-in

- Database of participants

- and more
With tht, we can control online and offline events, to make all the setups necessary to integrate tags and channels definitions of programs.
Control of programs
We can control all the integrations of the programs marketo with the InEvent platform, through the control panel below:
1º Step: Account information


We can automatically connect events in platform InEvent with marketo programs, just confirming the action in the checkbox.After that, select which program folder to create.
2º Step: Linkage:


Select the integration mode you desire (link).
3º Step: Channel



Select the channel you desire.

4º Step: Type of automation


Select the type of automated programs you want to create.
5º Step: Membership Status


Set the status of "Invite list", "Attendee list" and "Present list" of your event.
---
How Did We Do?
---