Artificial Intelligence for Emails
Features that will allow users to verify email lists and filter safe emails while avoiding email bounce backs.
How to verify whether an email is secure?
This is a very simple step. First, access PEOPLE > COMMUNICATION> E-MAIL HEALTH. You will see a list with all registered emails in your attendees list and beside each email, there will be a checkbox indicating whether the email is safe or not. If the email is risky, the checkbox will not be marked, and there will be an explanation as to why it is not safe.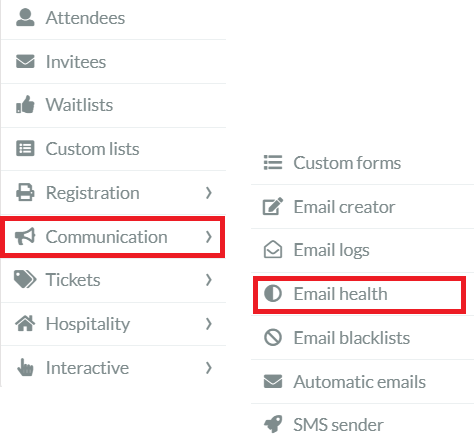 You can search for a specific email by clicking on SEARCH. It is also possible to filter safe or risky emails by clicking on FILTER. You can export this list by clicking on the REPORT button.




The feature SEND EMAIL allows you to send emails that are marked as SAFE. If you would like to send emails that are considered RISKY, you will need to click on the EDIT button and mark the checkbox on the EMAIL HEALTH column.

The definitions for EMAIL HEALTH has 4 variations:
Catchall | Valid Domain
Valid | Valid Domain
Invalid | Nonexistent Domain
Unknown | Domain not found
Please Note: In case several emails bounces back because it is considered risky, the platform will stop sending emails.
---
How Did We Do?
---