Email logs
Monitor the emails sent to your attendees through the InEvent platform with our email logging function.
How to access the email logs
To access the email logs press 'PEOPLE' > 'COMMUNICATION' > 'EMAIL LOGS'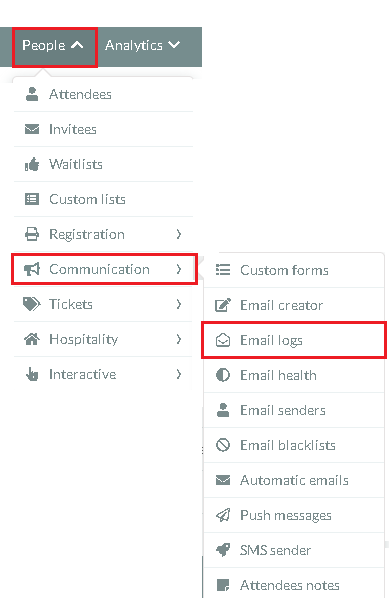 What information can I access?
The email history allows you to track which address the message was sent to, the status, subject, date of sending, and whether the message was opened or not. You can also export this information by clicking the 'REPORT' button.

Possible Status messages for sending emails
There are some possible status messages for sending emails from the platform.
Processing: Your message is in the submission process.
Delivered: Your message has arrived in your recipient's email box.
Soft-bounce: Temporary state that blocks your message. This happened because the server was down or the mailbox was out of space.
Hard-bounce: Permanent state that blocks your message. In this case, the email address is invalid or does not exist.
Spam complaint: The email was classified by the user as spam.
---
How Did We Do?
---