Set Event Tools
Set Event Tools
Choose the tools you will be using in each event you are hosting.
Choose your Tools
Click on Event > Configuration > Tools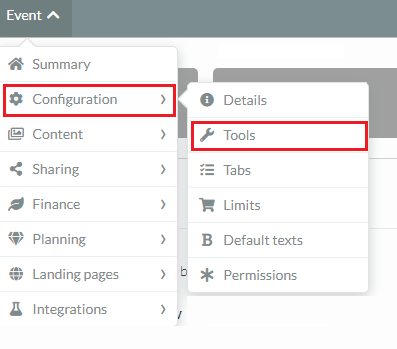 Click on Edit, then check or uncheck the feature box selected and click End.

Default tools in all your events: Category - Control
There are some categories that enables some features, even though the features are not established in your contract.
An example: Control Category. Please see the tools enabled:
Attendees Post: Automatic approval of attendees posts in the internal event feed.
Social Media Posts: Automatic approval of attendees posts in social networks.
Attendees Comments: Automatic approval of attendees' comments on activities.
Attendees Questions: Automatic approval of attendees' questions on activities.
Invite Requirement:Set that only guests with invites will be allowed to enroll at the event. If manual approval is enabled, guests will also have to be approved in addition to their invite.
Please note: Invite Requirement will always be enabled as a standard. If you do not wish to use the tool, you must unable. If your event does not have an Invitation List, unable it as well. If not, your attendees will not be able to access the app.
Default tools in every event: Category - Block
For this category, there are tools that unables the attendee to modify their profile, chats, posting or editing the agenda.
Profile lock - Restrict access to all the tools with personal data, such as networking and profile editing
Password lock: Block passwords on relevant channels, such as forms, emails, hotsites or apps.
Logout lock: Block attendees from changing accounts or logging out.
Email lock: Block email from attendees in networking interactions
Telephone lock: Lock the phone of attendees, including calls or messages through WhatsApp.
Social network lock: Block attendees in networking interactions via Facebook, LinkedIn and Twitter.
Schedule lock: Disable access to personalize or edit the event personal agenda.
Sharing lock: Block attendees from sharing content or event information.
Favorite lock: Does not allow any favorites to be added by attendees.
Chat lock Block any conversation between attendees.
Default tools in every event: Category - Extra
This category refers to features involving agendaa, importing and exporting spreadsheets and access log.
Foreign support:Add custom details relevant to organizations outside the United States.
Excel Sheets with Activities:Export excel sheets with activities (must have import/export feature enabled).
Two-tab Schedule: Enable My Schedule and General Schedule tabs (customizable if custom tabs is enabled).
Concurrent Schedule: Enable attendees to enroll on activities which occur simultaneously. By default one person cannot enroll on sessions which dates are overlapping.
Multiple Rooms: Enable support for a attendee to be hosted at multiple lodgings. When enabled, the mobile app lodging will be disabled due to screen space constrains.
Offline Notification: Allow attendees to receive offline feedbacks notifications while using the mobile app. Once enabled it may take up to one week before the tool is disabled on all devices.
Short QR Codes: Create 14 digits number-only QR Codes (this will result in a loss of security). Such feature is useful for systems which can read short strings only.
Access log: When enabled, access control acts as access log. This means that it will only validate the QR Code, and not the entry status of the participant.
---
How Did We Do?
---